AllCEUs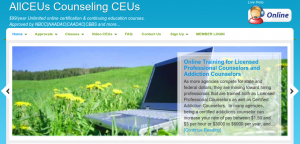 continuing education courses are accepted in most states for Nurses, LPCs, LMHCs, LMFTs, LCSWs and Addictions Professionals.  Our director, Dr. Dawn-Elise Snipes worked in community mental health since 1991, has her PhD in counseling and education, is a Licensed Mental Health Counselor, Certified Rehabilitation Counselor, and Nationally Certified Counselor.  She started as a line clinician in a drug-court substance abuse treatment program, and worked her way up to a senior program director over dual-disorders multi-level treatment facilities in three counties.  During her time in community behavioral health, Dr. Snipes saw her clinics through JCAHO and CARF accreditation surveys, wrote more than two million dollars in state and federal grants, and served as the lead trainer for the thirteen county dual-disorders program.  In addition, Dr. Snipes has developed and taught online and face-to-face courses for the University of Florida, and recently had her first book published.  Currently, Dr. Snipes maintains a small, online private practice at http://gainesvillecounseling.com.  She provides brief, solution-focused services to persons with anxiety, depression, bipolar and addictive disorders.
Dr. Snipes realized that many organizations were struggling to provide their clinicians with continuing education training due to budget short-falls and increasing constraints caused by managed care.  Therefore, she decided to start AllCEUs to help clinicians access best practices and affordable online continuing education.  AllCEUs offers a variety of NBCC, NAADAC and CAADAC approved continuing education courses, many of which include videos, narrated PowerPoint's, discussion forums and free texts.
All CEUs has courses conforming with all of the core competencies set forth in TAP 21 to prepare Addictions Counselors for certification. We are approved by the National Board for Certified Counselors (NBCC) and the National Association of Alcohol and Drug Abuse Counselors (NAADAC) to provide pre-certification training and counseling continuing education. Our criteria for determining CEUs is set by the Commission for the Certification of Rehabilitation Counselors (CRCC).