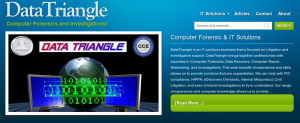 DataTriangle is prepared to assist whether you are an individual accused a crime, a business in need of internal investigative assistance, or a spouse involved in a divorce where digital evidence is involved. Incidents involving digital evidence and a related investigation require a unique set of skills! When you need these skills, you want an experienced investigator who can assimilate the varied facts of real incident.
The Principal at DataTriangle is Charles A. Snipes. Mr. Snipes has 15 years of investigative experience gained in law enforcement. This experience included state and federal investigations in the offences of intellectual property, hacking, child pornography, homicide, narcotics, property crimes, and financial crimes. His final assignment was as a computer forensic examiner and dual-sworn Agent assigned to the Internet Crimes Against Children (ICAC) task force and FBI cyber crime task force.
Mr. Snipes has used these combined skills to support civil litigation, criminal prosecution, eDiscovery, and internal corporate investigations. In many of these matters an individual leading an investigation needs to be able to relate and communicate with individuals ranging from attorneys, executives, police officers, private investigators, IT staff, and other computer forensic experts. All of these communications must be combined into a concise and understandable report with well thought out conclusions. When dealing with matters important enough to hire an expert, you want the experienced multi-disciplined conclusion.
DataTriangle frequently encounters case where the human component of the situation is important. There is frequently more to the story that just the forensics. This is where the investigative experience is critical to draw the correct conclusions and weigh the computer evidence appropriately.